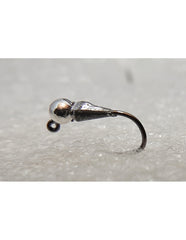 DOHIKU HDJ HS/HG - Weighted Jig (nymph)
DOHIKU weighted JIG hook. It will get your flies to the bottom faster. Very useful in deep rivers with the strong current.
Finish: black nickel.
Size 12 - Weight 0.45g - Tungsten Slotted Beads 3,3 mm 
Size 14 - Weight 0.43g - Tungsten Slotted Beads 3,3 mm 
Size 16 - Weight 0.37g -Tungsten Slotted Bead 3,0 mm 


HDJ - HS = Silver Bead
HDJ - HG = Gold Bead
DOHIKU HDJ barbless fly hooks have a bent in point for better fish hold.
Finish - Black Nickel. 10 hooks per pack. Hooks MADE IN JAPAN.
DOHIKU barbless fly tying hooks are made from high carbon steel, which is hardened and tempered according to an exact formula that guarantees them a long life. Chemically sharpened. Watch your fingers!